SCOBY Apple Fruit Leather
Last year I took a 'How to Make Kombucha' class at the local co-op. Our instructor was Julie, the owner of
OLY Cultures
, based out of Olympia, WA. Her business sells 'live' culture starter kits for kombucha, milk kefir, water kefir, and mozzarella and ricotta cheese in addition to teaching cooking and instructional classes. We got to taste different flavor combinations and ask lots of questions! Once I had my complete kombucha starter kit, my journey of brewing booch began!
If you are familiar with brewing kombucha at home, then you know that with each batch, the SCOBY doubles itself, or simply grows another baby SCOBY. A SCOBY is a Symbiotic Colony of Bacteria and Yeast, supporting the immune system and improving digestive health! At first I ordered a gallon size jar to use as a SCOBY hotel. Once that started to fill up, I'd give cut up SCOBY to our pup as a probiotic dog treat, blended up a cleansing SCOBY face mask, and added SCOBY pieces to our smoothies. I started to experiment with 'culinary' uses of SCOBYs and came up with a handful of healthy snacks, including this delicious SCOBY Apple Fruit Leather!
What should I do with these extra SCOBYs?
In addition to the ingredients, you'll need a dehydrator, cutting board, and either kitchen scissors or a pizza cutter. I use a
NESCO FD-60 Snackmaster® Express Food Dehydrator (you can purchase here).
When you're dehydrating the fruit leather mixture, remember that keeping the low temperature of 110
°
F allows the SCOBY's probiotic cultures to stay ALIVE and remain in the finished product.
Ready to start the dehydrating process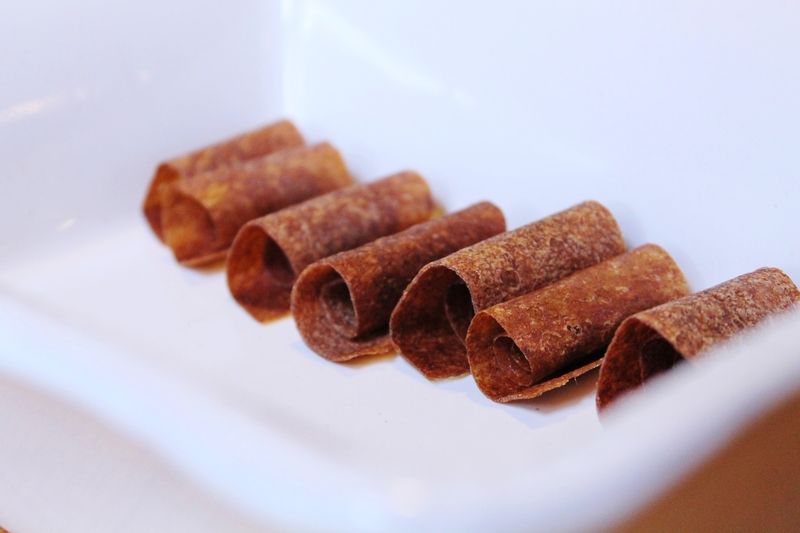 SCOBY Apple Fruit Leather
A live, probiotic-rich treat you can take on the go! Great for outdoor adventures or packing in your child's lunch!
Ingredients
1/3 cup

Organic Unsweetened Applesauce

2

SCOBYs (4inch)

1 tablespoon

Cinnamon

1 tablespoon

Gelatin

2 tablespoons

Kombucha

Coconut Oil Spray
Instructions
Cut SCOBYs into smaller pieces to make blending easier, unless you're using a high-powered blender.
Place all ingredients (except Coconut Oil spray) in blender and pulse. You may need to scrape down the sides a few times.
Blend until smooth and "whipped".
Spray dehydrator tray with Coconut Oil to prevent leather from sticking.
Spread mixture evenly on the tray.
Dehydrate for 12 hours at 110 degrees F.
Once dehydrated, peel leather off tray and cut into strips using kitchen scissors or a pizza cutter. Store in an airtight container at room temperature.
Details
Prep time:
Cook time:
Total time:
Yield:

8-10 servings